100% natural ingredients
All-natural ingredients from local farms and classic production methods - that's all we need.
Sustainable production
Zero-waste production and continuous process improvement to leave the smallest possible footprint.
Recycled packaging
The can is almost endlessly recyclable and significantly reduces the amount of emissions during transportation.
Talava
We are changing the perception of what the usual categories and flavors of drinks are.
Experiences never seen before are choice of our generation.
Learn more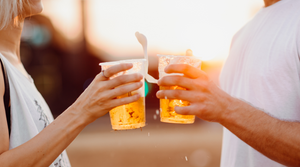 EKSKURSIJAS UN DEGUSTĀCIJAS
Gan sidra pazinējiem, gan zinātkāriem piedzīvojumu meklētājiem mūsu degustācijas un ekskursijas parādīs īstu craft dzērienu kultūru.
Pievienojies mums ekskursijā un ļaujies degustācijai gida vadībā.
PIESAKIES
Delicious, exciting, inspiring! I wholeheartedly recommend enjoying both the tour and tasting the cider itself!
Elīna Pētersone
Delicious! Really tasty cider (especially semi-dry) that tastes like apples instead of synthetics and sweeteners. I would like to visit the factory sometime! The joy of a local company that not only produces a quality product, but also especially thinks about design and innovation. P.S. A special compliment on the pet bottles
Sintija Meijere
Yum! I tasted this drink at IKEA's outdoor cafe. Well, very nice. A really good drink for summer. The real apple cider taste. I recommend!
About : Non-alcoholic apple cider
Don't let the taste of hops scare you - this is the perfect drink for summer and hops are there just for a sec! The taste is very fresh, with a slight hint of citrus. Very refreshing and fresh!
Kristiāna
About : Apple cider with hops
Tasty, sweet, refreshing and really tastes very close to real cider! Definitely my summer pick.
Kristiāna
About : Non-alcoholic apple cider
I would like to say a huge thank you for the reception and the tour of the factory. A great story about the beginnings of a cidery and an excellent tasting. I definitely recommend visiting the Tālava cider factory!
Marika Grīnberga
My favorite cider forever! It's cool that it's available in many stores, but here I'm ordering mix boxes with passion fruit and quince ciders. Thank you for making delicious and natural drinks!
Anete B.
About : Apple cider with cherry and rhubarb